Anaerobic Digestion Tanks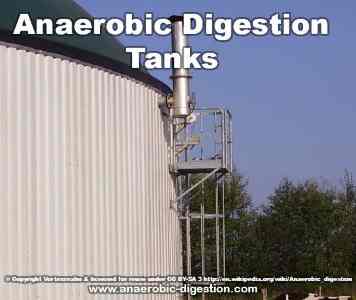 Anaerobic digestion tanks are large, usually circular in plan, and very distinctive with their flexible gas storage covers, which are often cone shaped and supported at the centre with a single pole.
They are manufactured and installed by a small group of specialist contractors. Tank bases are usually designed and constructed by the EPC/ infrastructure contractor, usually a civil engineering contractor. Once the base has been completed and the concrete has set and cured, the anaerobic digestion tank specialist will erect the tank walls and cover, and test the tank for water-tightness, before it is handed over to the main contractor for installation of all mechanical and electrical equipment (including hot water heating tubes.
Commercial scale fermentation (biogas reactor) tanks are usually made from one of the following materials:
Mild steel
Concrete – Reinforced concrete and pre-cast (either pre-stressed or post-stressed)
Stainless steel.
Small scale and micro-scale anaerobic digestion tanks may also be constructed from GRP, and HDPE in the industrialised countries. In developing nations there are large numbers which are built as buried, or part buried tanks, and these may be of brick, or blockwork construction which is rendered to become water-tight.
The skin of the tank is not normally what is visible from outside the tank. The structural wall of the tank is usually covered first with some insulating material and then that is protected by adding a skin of aluminium profile sheeting, or a similar material to reduce air-flow and make the insulating material effective by keeping it dry.
Sectional Steel Tanks
The most common anaerobic digestion tanks are manufactured from steel which is zinc coated and glass coated. An epoxy layer may also be applied for further protection. The steel arrives in sections and is bolted together on-site, with gaskets provided between the steel surfaces to provide a watertight seal. The perimeter is then usually cast into a concrete ring beam for a water-tight seal between the tank walls and the reinforced concrete base slab.
Concrete Tanks
Reinforced concrete tanks require a lot of formwork as most tanks are cast in one long pouring/ casting session, and have a high initial construction cost, but once completed do not normally corrode significantly and may last 20 years or more with little or no maintenance. Construction times affect the critical path more than other tank types as the concrete must be allowed to cure before the tanks can be filled and curing may take 30 days.
Pre-stressed and post stressed pre-cast concrete anaerobic digestion tanks are normally sectional in construction and erected from a series of full height "planks" which are carefully jointed and sealed together and down on to the concrete base slab. Stressing cables are wound around the perimeter and when tightened take the full circumferential load. The stressing design is proprietary and varies between the suppliers.
Stainless Steel Sectional Bolted Anaerobic Digestion Tanks
Due to the fact that if the surface coatings of steel tanks are penetrated by becoming chipped or worn, the corrosive nature of biogas can seriously shorten the life of mild steel sectional tanks, and concrete tanks are slow to build and expensive if reinforced, but if pre-cast depend on on large number of sealed joints that may be susceptible to leaking the use of stainless steel tanks is becoming common.
Stainless steel may be a more expensive material than any of the alternatives, but by not needing a protective coating it avoids the corrosion concerns of mild steel sectional bolted tanks, and yet retains all the benefits of fast erection. The biogas plant company Weltec is known for its use of stainless steel tanks.
UK Anaerobic Digestion Tank Contractors
Large numbers of these types of anaerobic digestion tanks have been built in the UK by the following contractors:
Galglass
Permastore
A-Consult
Aquastore
and others.
List of UK Tank Suppliers for Digesters and General Use
[box type="alert"]This List of UK Tank Manufacturers and Telephone Numbers was current in August 2009.[/box]
This table is based upon a table published in the August 2009 edition of Water and Wastewater Treatment, as the Tank File. For the full table which contains far more information on each supplier subscribe to the magazine or visit their web site at http://www.water-waste-environment-marketplace.com/index.asp