A home biogas storage bag (balloon) is used to store and transport the surplus biogas produced from home biogas digesters.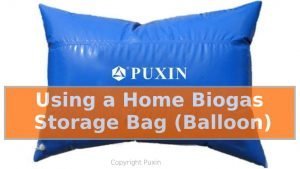 Home Biogas Storage bag balloons are relatively small in volume (for example Shenzhen Puxin Technology Co, Ltd offer their smallest biogas storage bag as a 1 cubic metre unit)
They are nowhere near as large as the "gas holders" used to store biogas until needed, in commercial biogas plant installations.
Tough and durable rectangular inflatable bags; They are re-usable, and used as an additional accessory by those people that already own or run a home biogas plant or a small scale AD unit, such as in community AD projects.
For more about the Puxin Product click here.
They make the use of biogas much more flexible. They provide a way to store extra biogas over and above the quantity stored in the built-in biogas storage, usually located in the space above the liquid any home digester tank.
At these sizes, a home biogas storage bag is small enough to be portable, and in addition to providing extra methane for cooking for special occasions, it can be used to transport biogas.
This enables biogas in these balloons, to be sold for use by people other than the biogas plant owner.
They are particularly useful when a number of families send their organic waste to a community biogas plant, from neighbouring farms or homes.
By using a home biogas storage bag they are able to collect biogas from the AD plant and use it in their homes, if they live too far from the biogas plant to receive piped biogas.
The body of the Puxin Biogas storage bag is made from PVC membrane material. Puxin states that the expected life of the biogas storage bags / balloon is 5 years.
For their safe use, users must take great care to prevent fire or explosion, in a similar way to avoiding explosion and flare off hazards at all small-scale biogas plants.
If transporting by road vehicle always place the balloon in the open air on the vehicle. It is not advisable to transport biogas with you inside a vehicle in these balloons, due to the danger of fire, and the possibility of depleted oxygen in the event of a leak.
Biogas Storage Balloons are used in storing generated bio-gas in plant digesters and all types of waste like food, cow dung, vegetable, and de-oil cake.
SIKCO produces a Biogas Storage Balloon which is fabricated out of high tenacity polyamide fabric matrix, impregnated with compatible polymer on the inside for the gas stored and on the outside with Hypolon for weather abrasion and UV resistance.
We have found that manufacturers produce biogas storage bags up to 4 to 5 metres cubed in capacity.
For details of the Puxin Biogas Storage Bag, which is available on Amazon in the US, go to https://amzn.to/2CHLHwN
The above link is an affiliate link. we may receive a commission if you buy after clicking on this link. The commission from such sales helps to maintain and improve this website and costs you (the biogas balloon buyer) nothing.
More from the Web About the Home Biogas Storage Bag
There are two basic reasons for storing biogas or biomethane: storage for later on-site usage and storage before and/or after transportation to off-site distribution points or systems. The least expensive and easiest to use storage systems for on-farm applications are low-pressure systems; these systems are commonly used for on-site, intermediate storage of biogas. The energy, safety, and scrubbing requirements of medium- and high-pressure storage systems make them costly and high-maintenance options for on-farm use. Such extra costs can be best justified for biomethane, which has a higher heat content and is, therefore, a more valuable fuel than biogas. via 4. Storage and Transportation of Biogas and Biomethane
How big are biogas storage bags?
Puxin bags set the standards. PUXIN biogas storage bags are used to store the excess biogas every day, with 1 to 200 cubic meter capacity via How big are biogas storage bags?
An analysis of domestic biogas storage installations in China
This paper analyses the problems of domestic biogas storage installations used in China and introduces a new flexible bag with a rolling axis used for biogas storage. This has the advantages of easy manufacture, low cost, and guarantees a steady gas pressure for burning. The bag can hang in the kitchen itself, taking up minimal space, and can be operated easily by housewives. via 
domestic biogas storage
Please comment and give us your feedback on the Puxin home biogas storage bag (balloon).