Biogas analysis and maximizing the efficiency of anaerobic digestion plants is gaining more attention as the anaerobic digestion industry matures. If you are seeking to find out more about this topic, read-on, because this article is for you!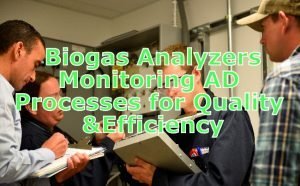 With the price for oil and gas on a seemingly unstoppable rising trend, biogas is in demand as a valuable energy source. However, the highest prices are only available for top quality biogas with a consistently high calorific value after upgrading (purification).  To do that operators need to pay close attention to the quality of the digester off-gas.
Thankfully, robust and low cost biogas analysis sensors are available from a number of manufacturers for controlling the various biogas quality upgrading processes. Development of these devices specifically tailored to the biogas industry has been essential. But, there has been great progress, and biogas plants are now able to work much more effectively than before. The challenge for the equipment specifier is to match the available biogas analysis products for the scale, robustness and accuracy to suit every application.
Many devices combine the functions of biogas flow measurement with quality monitoring systems for a wide variety of needs. There is often a requirement that the biogas analysis device includes, not only a capability to measure the main constituents of biogas, but also the lower concentrations, and even trace-level contaminants.
The need to continuously measure methane (CH4) and carbon dioxide (CO2), can be joined with a need for analysis of the low percentages of CO, H2S, N2, O2, which can also be found in the biogas composition depending on the nature of the process it originates from.
There are special requirements for the analysis of biogas which is produced as landfill gas, and the additional contaminates often found in that form of biogas. For that reason we have devoted a section of this article to landfill gas analysis. Scroll down and read that if you are seeking information about landfill biogas analysis.
In the paragraphs which follow we provide more info on biogas analysers or general use. Biogas plant operators need economical, versatile and reliable biogas analysis. Whether dealing with biogas plants, landfills, sewage treatment plants, and in some circumstances even composting plants. Some are fixed units, and some are mobile, and products are even available that are a combination of a stationary unit and mobile gas measuring device enables.
Today, like never before there are comprehensive professional biogas process control and optimization devices available, such as:
GEOTECH Gas Analysers for Landfills and the Biogas Sector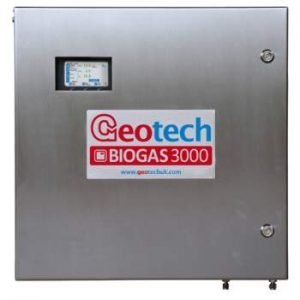 Geotech is a company which is well-known for its biogas analysis. It's gas analysis technology is used in a wide range of industries worldwide. It also has a well developed network of established international distributors. For this reason Geotech is often a first port-of-call when seeking the right biogas analysis products, for commercial biogas plants.
Biogas streams composition need to be measured either to monitor the production or digestion process or to control proper fueling conditions to the downstream process: combustion engine or biomethane upgrading stage.
LumaSense Technologies, Inc.
LumaSense explains that the NDIR sensors of their Andros 6500 series are devices which work both as digester, and biogas-fed, engine process control solutions.
The LumaSense products feature three infrared channels for CH4, CO2 and CO, and can support optional electrochemical (EC) sensors for O2.
The INNOVA 1512 photoacoustic gas monitor integrated with soil flux chamber is an appropriate measurement solution to run those landfill gas monitoring surveys. The multi-gas capability can also be advantageously used to monitor methane emissions along with other compounds of interest: CO2, N2O, VOCs, etc. via www.lumasenseinc.com
Cameron Instruments – Multitec Biocontrol
Multitec® BioControl is the professional system for continuously and automatically measuring and monitoring the volume and composition of gas. The range includes:
The BioControl 4 and BioControl 8 base stations are fixed devices, which have been developed specifically to meet the requirements of medium-sized to large AD plants The system is said to be very flexible for process and profit optimisation, while also providing maximum reliability.
The Multitec® 540 and Multitec® 545 are mobile units. Up to four or even eight measurement locations are available depending on the version (BioControl 4 or BioControl 8). This means that the operator can use any of the up to four or eight measurement locations as a fixed measuring instrument.
The Multitec® 540 / Multitec® 545 can perform mobile measurements directly at the fermenter, secondary fermenter or from more remote units in the plant, and save the measurement values in the BioControl.
These instruments are described as providing precise information about the biogas composition, it also accurately measures and evaluates the volume of gas produced. The efficiency of a biogas plant, landfill, sewage treatment or composting plant can be accurately calculated at any time by such devices. For example, when seasonal changes occur in the substrate, the operator can immediately see how these affect not only the gas quality, but also the volume of gas produced. via www.sewerin.com
This is an essential requirement to enable the plant operator to react to changing circumstances in the bio-reactor and optimize the system efficiency.
Union Instruments – Inca Biogas Analyzers
The INCA measurement technology Multi-Gas Analyzers are independent technical units in which all components like sensors, pumps, valves and more are mounted on a carrier plate and connected to the control unit via an internal device bus. The individual assembly with sensors (via sensor modules) is determined by customer's specifically required application.
Their modular design concept leads to variable specifications for intended applications of the INCA devices. The devices are offered in two series INCA1000 and INCA3000. The INCA1000 offers economy of size, whereas the INCA3000 offers a greater variety in performance and possibilities.
Wilexa Energy – CSM Continuous Siloxane Monitors for Landfill Biogas
Willexa Energy provides continuous siloxane monitoring to the biogas industry.
This system automatically and continuously monitors individual siloxane species at up to four points in the process. With detection limits as low as 300 ppb and remote communication and alarm capabilities, their monitor is described as providing the ultimate protection for downstream combustion equipment.
Progeco – Biogas Analysis Equipment
PROGECO includes in its scope of supply hand held portable instruments and fixed continuous and automated equipment for analysis of methane (CH4), oxygen (O2), carbon dioxide (CO2), hydrogen sulphyde (H2S) in biogas. Data can be stored or sent to remote PC / SCADA system. via www.biogasworld.com
Avensys Solutions – Awiflex Biogas Analyzer
The AwiEco and the AwiFlex systems provide biogas analysis.
The AwiEco unit provides analysis of CH4/H2S/02 from a single sample point, with 4-20mA signal outputs, graphic display and data logging. And, the AwiFlex unit is customised to suit the application and can measure CH4/H2S/02/C02/H2 from up to 5 separate sample points.
The AwiFlex analyser is offered as a H2S desulphurisation system. It can be supplied with an air compressor and the automatic controls to provide just the right amount of the air injection to the digester gas space, for microbial desulphurisation. via www.allison.co.uk
Special Requirements for Biogas Analysis of Landfill Gas
As landfills get older, more and more of them are producing low methane concentration landfill gas which once collected can still provide meaningful power outputs. Some types of internal combustion engines can run with methane concentrations as low as 25 % meaning even smaller landfill sites can be useful as fuel sources provided there is a reliable and inexpensive way to monitor the "quality" of the methane being produced.
The local regulation may require from a landfill operator to quantify the emissions, of methane (CH4) in particular, due to inefficiencies in the extraction / collection / soil cover design. The INNOVA 1512 photoacoustic gas monitor is designed for applications like this. via www.lumasenseinc.com
Biogas, and particularly landfill gas, or LFG, is usually heavily contaminated with VOCs (Volatile Organic Contaminants). VOC levels can exceed 1,000 ppmv, and are usually at least 50 ppmv, requiring removal by specialized treatment equipment so LFG can be used as a reliable fuel. Treatment systems for heavily contaminated biogas utilize media that is regenerated on a continuous basis to prevent siloxanes, halogenated VOCs and other harmful VOCs from entering landfill gas combustion equipment or being released to the atmosphere.
Siloxane is an organosilicon, and chemical compound which gets into landfill gas from its presence in numerous industrial and consumer products such as shampoo, cosmetics and detergents.
Organosilicons cause most of the damage to Internal Combustion (IC) engines, microturbines, boilers and SCR catalysts. Centek Labs measure the organosilicon content, major gas components (methane, nitrogen, oxygen, carbon monoxide & carbon dioxide), complete VOC (volatile organic contaminant) spectrum, plus organic and inorganic sulfur of your biogas. From this analysis, our biogas molecular scientists can determine the fouling potential (from silica formation) and treatability of your biogas. via www.centeklabs.com