It is clear that a lot of you want to know about anaerobic digestion costs. That biogas plant cost information is being eagerly sought isn't surprising. It's understandable, anyone who might consider investing in this technology, is obviously going to ask;
"If I had an AD plant. How Much would it cost?"
We guess that a large number of people would like to know the costs of biogas energy production such as the:
running cost/kWh of energy output (including maintenance costs)
cost of construction of AD plants etc.,
versus the income.
This would go a long way to answering the big question about profitability.
Sadly, this cost information is usually considered to be commercially sensitive, and rarely if ever published in the public domain.
However, the good news is that we did find the following "costs information" as described in the article excerpts below. (Please visit the original websites to view the full articles):
---
Waste Not, Want Not – How Anaerobic Digestion Can Lower the Cost of Running a Farm
Although the cost of an anaerobic digestion plant is high, by using your farm waste to generate heat, electricity and biofertiliser, you'll save money in the medium to long term and open up new income streams.
More and more farmers are using anaerobic digestion to turn their farm wastes into energy, cutting their own energy costs and attracting additional subsidies. Some are even selling the electricity to the national grid – and see the investment as more secure and profitable than expanding their herds.
And if that's not enough, anaerobic digestion also creates a nutrient-rich biofertiliser which studies show works better than chemical-based ones alone. via Waste Not, Want Not – How Anaerobic Digestion Can Lower Input Costs
Capital Cost
Many of the upfront costs of constructing an anaerobic digester might be covered by grants or low-interest loans. However, before making such a huge initial expenditure, it is necessary to analyse an anaerobic digester's net operational expenses. Before developing or purchasing an AD plant, it is vital to do a thorough financial study.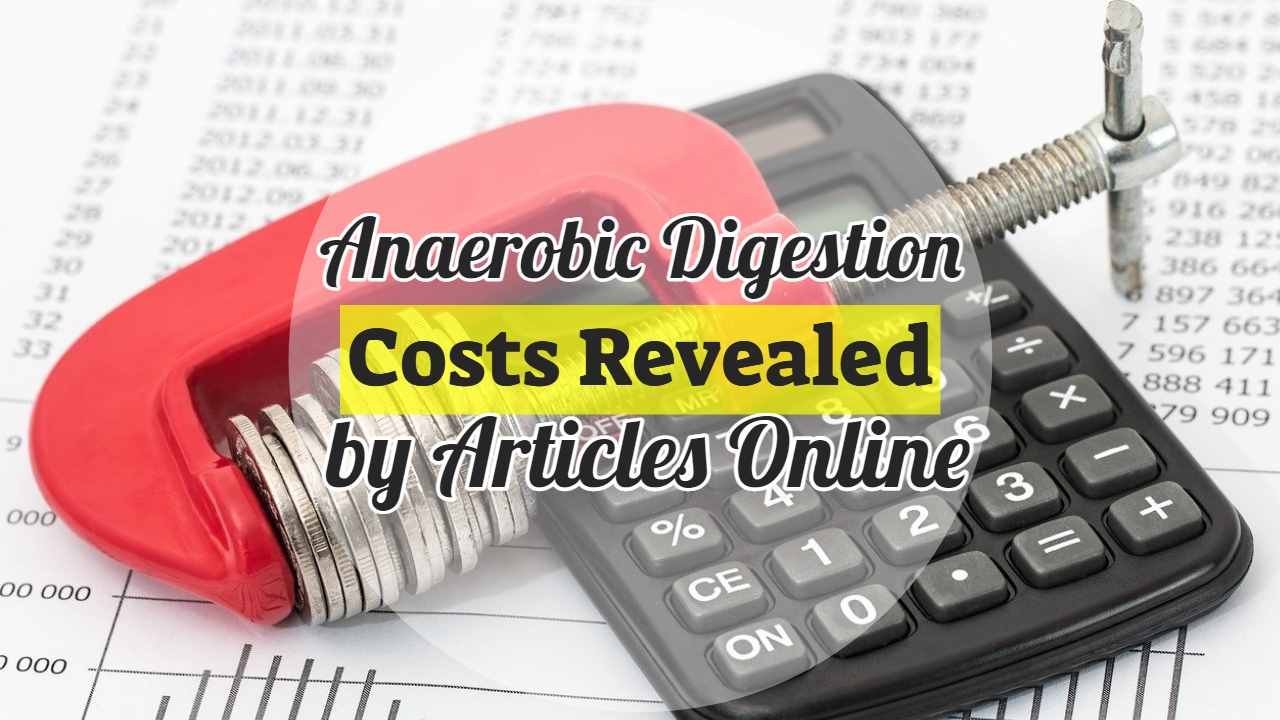 Operational Cost
The maintenance costs of operating an AD plant varies depending on its scale, ranging from $18 to $100 per tonne of feedstock processed. According to a study of 38 AD systems in the United States, the equipment for power generation accounts for about 36% of the overall capital cost.
The cost of electricity generation, generating power with AD plants ($/kWh) ranges from $0.06 to $0.23. The cost of producing energy is determined by the type of AD plant and the feedstock used.
Electricity generation cost is usually lower for larger plant sizes due to economies of scale.
Case Studies of Pocket (Small-Scale) Biogas Plants in Northwest Europe – with Costs and Payback Periods
We made the video which follows to highlight the availability of costs information in an EU publication published in 2015. The information on the costs of case studies, construction costs, and payback times may not be as up to date as we would like.
Nevertheless, this is a rare document as it does contain information on the costs of these smaller AD plants, and likely revenues.
To download the Pocket Digestion Plants report, click here.
Anaerobic digestion plant brings cost and energy savings
The on-site bio-energy plant was designed and built by Clearfleau for a food sector client. That client was, global food and beverage supplier Nestlé's Fawdon confectionery factory, near Newcastle. The financial and environmental benefits from Clearfleau's food waste plant are contributing to Nestlé's efforts to develop environmentally-sustainable manufacturing at Fawdon, as a beacon site for the overall organisation.
One year after commissioning, the plant is converting 200,000 litres per day of feedstock into renewable energy. This feedstock includes wash waters from the site and 1,200 tonnes of residual bi-products and ingredients per annum.
Combined Heat and Power
The biogas produced is fuelling a combined heat and power (CHP) engine, which produces 200 kW of electricity, used in the confectionery production process.
This is about 8% of the factory's power requirements, cutting the annual electricity bill by about £100,000 per annum. In addition, the site has registered for the Feed-in Tariff and will receive annual payments of about £250,000 per annum.
Small energy generators (such as those with an anaerobic digester) may, according to their utility company's metering capability, offset their energy usage costs by producing their own electricity under some utilities' "net metering" regulations. For small scale biogas plants, this can significantly reduce the farm's energy costs.
The following are 2 things to think about when it comes to the energy input which is sacrificed to keep the AD plant running.:
Thermal energy consumption for heating the digester is normally 10 to 20% of the energy output from biogas;
Electricity consumption is likewise typically 10 to 20% of available output energy.
…The payback period on Nestlé's investment in Clearfleau 's AD plant is predicted to be four-five years.
The company's chief executive, Craig Chapman, said:
"Clearfleau was delighted to be selected by Nestlé to deliver this important plant and we very much appreciate their collaborative approach to the delivery of this project. For Nestlé, what was previously a processing overhead is now a valuable financial and environmental asset.
"The advantages of anaerobic digestion are becoming more apparent and we are currently building AD plants on dairy, distillery, food and biofuel manufacturing sites. As a consequence of this industry support, we have built a strong team delivering on-site anaerobic digestion facilities."
Clearfleau is a registered trade mark. Via Anaerobic digestion plant brings cost and energy savings
The following sections were added in 2016:
---
Biogas industry unveils anaerobic digestion cost competitiveness task force