Anaerobic Digestion Pumps
Landia: The Company that Provides Anaerobic Digestion Pumps and Mixers of all Kinds
The innovative Danish pump and mixer product developer, Landia, is notable for still being a family-owned company, probably uniquely for the manufacture of anaerobic digestion pumps. This is despite the fact that it was founded way back in 1933. Its claim to fame originates right back in 1950, when the company invented the first really workable electric pump for pumping difficult fluids, by being the first to incorporate the inclusion of rotating knives, within a pump.
From that day to the present, Landia has concentrated on the provision of products for the "dirty", water pumping and mixing sector, by developing new products to serve each developing market as they evolve within the water and waste water, and farming sectors.
Unsurprisingly, although it may be, Landia's equipment also excels in the clean water sector, as well, but it is in the AD equipment market that Landia has identified a need for new products.
While interest was been growing worldwide in renewable energy from biomass through the Anaerobic digestion process over the last 5 years, Landia was quietly developing new products to meet the emerging demands for specialist pumping and mixing equipment, within this emerging industry.
The product that they came up with, took the company right back to its roots, and drew on their long-standing skills to produce a new range of bladed pumps, which it has named its "Chopper Pumps Range".
The Landia Chopper Pump, we understand, is in heavy demand despite the current economic downturn, and is increasingly used all over the world. It combines the functions of pumping with a very robust chopping action.
Designing anaerobic digestion pumps, suitable for pumping such materials is notoriously difficult. However, users have attested to the fact that this pump reliably provides long term blockage-free running, at a low running cost, and even when handling highly variable feedstocks on-farm and in the digestion of MSW wastes, and sewage works sludges.
The video below showers a Landia chopper pump configured in their Gasmix system, to provide a digester with mixing, and scum removal. The result is that these anaerobic digestion pumps provide an improved gas yield from enhanced digestion rates.
Landia Anaerobic Digestion Pumps Have Global Reach and Wide Application
Landia competes successfully internationally, with over 75% of Landia's business being exported.
Landia pumps, mixers and process units are also in successful use across numerous other industries in facilities which include sewage treatment plants, anaerobic digestion and biogas plants, agricultural biogas digesters, and fish processing factories, plus having interests in the food and brewing sectors.
Right across the waste management and biogas industry Landia shows its experience and skills as specialist designers/ manufacturers.
In fact, the company prides itself on high-quality products and providing a backup service to its customers which they think, with a good measure of justification, is second to none in their industry niche.
Visit Landia's website for more information on the Chopper Pump.
---
Verder Anaerobic Digestion Pumps Used in the Recovery of waste food and the production of biogas
A famous Norfolk brewery producing excellent quality genuine ales has introduced a biogas digestion process producing high-quality biomethane that can be delivered to natural gas users through the national gas grid.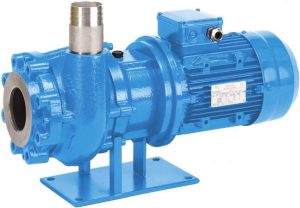 Food waste is collected at the side of the dock and processed into wastes from supermarkets and breweries. The organic material is inserted in a feed-inlet when the rotor chopper breaks down the raw material in the process. Not only does the AD process provide benefits from waste reduction but a side effect can be the production of carbon dioxide at the same time as they produce biogas.
A Verderflex Pump moves crushed slurry out of holding tanks into heated exchangers to raise the temperature before entering the main Anaerobic Digestion facilities.
Progressive Cavity Pumps are Used in Anaerobic Digester Applications
Biogas plant operators produce composts from a variety of organic materials for the energy generation process.  Some anaerobic digestion process liquids are extremely viscous, some abrasive, some requiring mild handling – all are generally classed as; "not easy to pump".
The progressive cavity pump technology is a type of pump that has evolved over time. New progressive cavity pumping technology, which allows the movement of waste materials throughout the anaerobic digestion process, has been incorporated into this process as a significant part of the overall process by a number of plant operators.
Pumps that are contained and low-maintenance were an attractive fit for bio-waste because they moved solid waste (food waste, sludge, slurry, and so on) quickly and efficiently. What is the Process? When microorganisms break down organic material (biomass) in the absence of oxygen, this is referred to as anaerobic digestion (AD).
Verderflex pumps have proved to meet these challenges. For example, a fish processing company in northern France fillets fish and prepares the rest for pet food as well as frozen blocks for shark bait and lures using Verder pumps.
Verderpro progressing cavity pumps are being used for the pumping of fish waste to produce biogas.p
Anaerobic Digestion for Biogas production
Anaerobic digestion produces renewable power but to be useful that power has to be produced reliably to be truly valuable. AD, the process of fermenting manure, food waste, and crops to produce biogas that can be used to generate energy, is a market that  Verder technical sales engineers have been regularly specifying and supplying pumps to.
Pumps are critical components of the anaerobic digestion process, and it is critical to have equipment that performs at its peak performance. As you are no doubt aware, costs can add up quickly over the course of a year, with parts and pumps frequently needing to be replaced due to the nature of digestate and the amount of time it is exposed to.
Biogas is generated primarily by removing air from a substance. Moreover, well-run plants use many microorganisms. The Verderflex hose pump is a very good pump that is suitable for anaerobic digestion.