A short Five Article Report to explain the very interesting recent developments occurring in the Dairy Farm Biogas scene in the US.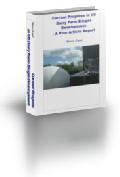 Steve Last wrote this short ebook in March 2009 for professionals and students seeking information about biogas digesters on US Dairy Farms, and we very much hope you will find it a useful general introduction to the subject of farm biogas.
Since 2009 the price of fuel has continued to rise and US on-farm biogas production has increased, so this report is even more relevant now than it was when it was written.
Download and read this to:
Understand how US Dairy farm biogas digester technology developments are leading to increasing adoption of anaerobic digestion by US farmers
Appreciate that anaerobic digestion use is rising in the United States
Be one of those people that "gets it" and is clear about the importance of biogas digesters for renewable (alternative) energy production in the future
Be realistic about US dairy farm biogas, it's not perfect! So read this to be aware of the main issues which arise in its production.
To download your copy click on the button below or  on the link that follows..
[wpdm_file id=5]
Price: Free             (Acrobat file download)
Downloads between March 2009 and February 2012 =  1865