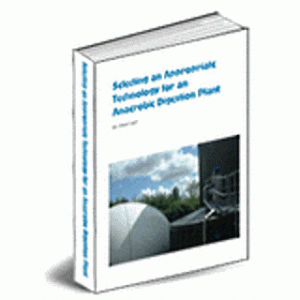 The primary considerations for choosing a particular Anaerobic Digestion Technology and specialist contractor are described, and links and resources to further information are provided.
This ebook is for all those planning all but the simplest and smallest AD Plants, and is aimed at all farm scale and larger projects which will be built by a specialist contractor.
Contents:
Introduction
Obtaining Adequate Plant Design Data
Types of Digestion Processes
Dissolved Biologically Contaminated Waste
Mixed Solid and Dissolved Biologically Contaminated Waste
The Difference Between Close to Market Technology and a Proven Technology
Conclusion
This is a very valuable eBook for all those seeking to establish the best anaerobic digestion technology for their Biogas Digester. It could save you lot of money from the sections which explain the importance of obtaining adequate data before design commences, and assessing the market for the digester products you will produce.
Finally, the book explains the importance of distinguishing between 'close to market' technology and proven technologies.
Author: Steve Last (11 pages)
Price: £4.95 inclusive. (Acrobat file download)