The UK Department for Transport' (DfT) responded to its consultation on the Renewable Transport Fuel Obligation (RTFO) in September 2017 very positively, from the point of view of the UK anaerobic digestion and biogas industry, because the proposed new rates to be offered under the RTFO turned out to be better than they the industry leaders had asked for.
In reply to the concern that the renewable transport fuel certificates price dwindle further, after the Renewable Transport Fuel Obligation (RTFO) consultation (also called; RTFO 2017, or DFT RTFO consultation), it appears that the RTFO certificate price, when eventually incorporated into UK statute will in reality be good, and will be aimed at a price which will encourage AD Plant investment.
Update 5 March 2018:
Renewable Transport Fuel Obligation (RTFO) clears first parliamentary hurdle with Commons green light
Energy Census: Proposed changes to the Renewable Transport Fuel Obligation have cleared their first hurdle in parliamentary committee with the Draft Renewable Transport Fuels and Greenhouse Gas Emissions Regulations 2018 passed unanimously during a delegated legislation committee, Monday. …

The revamped RTFO is set to boost the UK's biofuel mandate from the current 4.75% total, to a rolling mandate starting at 7.25% in April 2018 but rising through to 12.4% by 2032.

As part of the proposed changes, the bolstered RTFO will differentiate between crop-based biofuels and waste-based biofuels, with crop allowed to deliver up to a maximum of 4% of the 7.25% biofuel provision, with waste-based biofuels providing the balance.

Over the course of the RTFO's proposed lifetime, that maximum will be reduced to 2% in 2032, with a new advanced category introduced in 2019.

That will also contribute a percentage of biofuel supply rising from 0.1% in 2019 to 2.8% by 2032, with everything else due to come from waste-based biofuels.

The Statutory Instrument now passes to the House of Lords, where it is due to be discussed on March 6 before coming onto the UK's statute books ahead of the April 15 deadline, when it is due to be implemented.

The UK government has been accused of cutting fine the legislative timeline, with some in the industry expressing concerns over what the changes may mean for the trading of Renewable Transport Fuel Certificates.

However, press contacts at the Department for Transport have assured that the legislation remains on track to be in place by the end of March. via EnergyCensus
PRESS RELEASE: Biomethane perfectly positioned to meet new renewable fuel targets – ADBA
Watch the full release in the video, or scroll down and read the PR below:
Posted on 15 Sep, 2017 by Chris Noyce
The UK's trade body for anaerobic digestion (AD) has welcomed the Department for Transport's (DfT's) response to its consultation on the Renewable Transport Fuel Obligation (RTFO), declaring biomethane to be 'perfectly positioned' to meet increased targets for renewable fuels.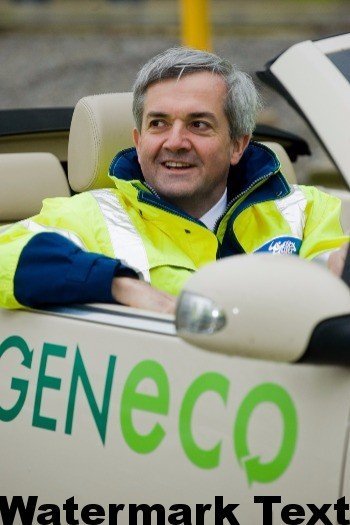 DfT's reforms will obligate fuel suppliers to provide 9.75% of all fuels from renewable sources by 2020, a doubling of the current 4.75% obligation that will then rise to 12.4% of all fuels by 2032, helping to align the RTFO with the Government's Carbon Budgets. Biomethane produced through the recycling of organic wastes and energy crops is one such fuel derived from renewable sources that can help fuel suppliers to meet this new higher target, particularly for heavier vehicles for which electrification is impractical or expensive.
With more than 80 AD plants across the UK already producing biomethane, the UK AD industry has sufficient capacity today to produce enough biomethane to power 80% of the UK's entire bus fleet and the potential to produce enough biomethane to power 75% of all HGVs in the UK. It can also be used directly on farms to fuel agricultural vehicles.
Charlotte Morton, Chief Executive of the Anaerobic Digestion & Bioresources Association (ADBA), said of DfT's response to the RTFO consultation:
ADBA greatly welcomes DfT's increased commitment to supporting low-carbon fuels, which are essential for decarbonising the UK's emissions-heavy transport sector and meeting our Carbon Budgets.

The rising of the obligation for renewable-sourced fuels to 12.4% by 2032 goes beyond what was originally consulted on and will create a positive investment environment for renewable fuels. As a low-carbon, low-cost, and technology-ready transport fuel that can deliver £2.1 bn in CO2e savings per year and dramatically improve air quality, biomethane is perfectly positioned to play a leading role in helping fuel suppliers to meet these increased targets.

This news represents a huge opportunity for biomethane and will give plenty of food for thought and discussion at the ADBA Biomethane & Gas Vehicle Conference taking place in Leeds the week after next.
To see this Press Release on the ADBA website click here.
For more information contact Chris Noyce, ADBA PR & Parliamentary Affairs Executive: 020 3176 5441 / chris.noyce@adbioresources.org
Renewable Transport Fuel Obligation (RTFO) Consultation also known as; RTFO 2017, or DFT RTFO Consultation – Conclusion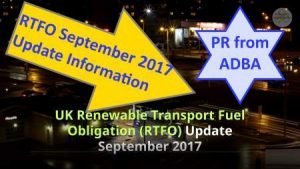 It is fair to say that the predicted RTFO statistics in new anaerobic digestion plant starts which the Renewable Transport Fuel Obligation consultation (RTFO 2017) should bring into reality, will be beyond the expectations in the DFT RTFO consultation.
The higher price will no doubt bring forward more positive RTFO guidance, in due course from the industry experts, as a consequence of the forthcoming higher RTFO market price (Renewable Transport Fuel Certificates Price).