Biogas buses, and biogas powered trucks are catching on, even if most will be LNG, which will be supplied from fossil fuel sources, for now.
What could be better than using biogas from the anaerobic digestion process to power transport fleets? The energy source is renewable, usually made from waste by-products, and the methane used in this fuel is clean burning, and removes the concerns for air pollution which come from using diesel to power trucks and buses.
Add to this that most governments charge a far lower tax rate for using it than oil and petrol (gasoline). Then also consider he fact that the fuel itself does not need long distance transportation, creating carbon emissions even before it is used, and you have a win-win fuel to use!
We would like to share with you three articles on the subject as follows. The first three provide case study examples of projects and fleets where LNG (Liquid Natural Gas – not biogas) is being used to fuel trucks, and biogas is being used to fuel buses. LNG is not necessarily renewable, but biogas when upgraded to biomethane is being added to LNG networks.
The first one is all about Finland as a world leader in low carbon emission transport fuel use. So, by reading that you will find out about the over 30% rise in use of LNG fuel in that country, last year.
Of our articles, only the final one, about Santa Monica biogas buses in the US, includes the use of biomethane as the LNG source, nevertheless, as the popularity of LNG rises, more and more opportunities will arise for biogas to be upgraded to biomethane in the future, which will make the use of this fuel even "greener":
LNG Trucks: Finnish Container Transporter Introduces LNG-fueled Volvo Truck
Volvo FM Dual-Fuel
Speed Oy, a specialized container transport company based in Helsinki, Finland, has decided to introduce a Liquefied Natural Gas (LNG)-fueled Volvo FM 460 hp dual-fuel truck to its fleet operating from Helsinki's Vuosaari Harbor. An LNG refueling station for heavy-duty vehicles will open at the harbour in August by Gasum, a Finnish gas company intent on developing the road fuel gas filling station network enabling the use of LNG in heavy-duty transport.
"We want to lead the way in the transport sector and introduce new, more environmentally friendly vehicles to our fleet [biogas trucks]. LNG is a natural step in our efforts to make transport greener. We've already been involved for four years in an Eco-Truck trial where large-capacity modular combination vehicles are operated under a special permit granted by the Finnish Transport Safety Agency (Trafi). The results are promising: carbon dioxide emissions have been cut by more than 40%. We've received encouraging feedback about the Eco-Truck from our environmentally responsible customers, and therefore I believe that the number of Speed's LNG-fueled vehicles will also increase in the future," says Managing Director Tuomo Vallas Speed Oy.
"Speed is setting an example for other transport companies by offering cleaner container transport. LNG is an excellent alternative for use instead of diesel for heavy-duty transport and can help reduce emissions," says Gasum Sales Manager Petri Michelsson.
"Volvo wants to be actively involved in progress, and by participating like this we're able to build and develop the truck sector for better service to our customers and society in the future while at the same time operating in line with our core value of environmental care. This also helps us make sure we have the best competencies and knowledge in the sector as regards new technologies and products," says Kimmo Ahonen, Director, Vehicle Sales, Finland, Volvo Trucks.
Gasum is developing the road fuel gas filling station network and enabling the use of liquefied natural gas (LNG) in heavy-duty transport in particular. …
Emissions from vehicles running on natural gas are lower than those from gasoline and diesel. Gas is also an inexpensive transport fuel. (Source: Gasum)
via Finnish Container Transporter Introduces LNG-fueled Volvo Truck
Biogas Buses: 82 M-B Citaro NGT for Madrid in May
Transport operator EMT Madrid (Empresa Municipal de Transportes de Madrid, S. A.), the public transport company that services the needs of the Spanish capital 3.2 million inhabitants is a long-time user buses with natural gas engines. So far, the use of NGVs has made it possible to cut emissions by over 80 per cent. At the end of May, EMT placed an order for 82 more alt-fuel buses, choosing the Mercedes-Benz Citaro NGT (Natural Gas Technology).
The order consists of 40 18-metre Mercedes-Benz Citaro natural-gas-powered articulated buses and 42 12-metre Mercedes-Benz natural-gas-powered rigids.
The new Citaro NGT with natural-gas engine is approved without restriction for the use of renewable natural gas to DIN 51624. This makes for an even smaller carbon footprint, as operation of the natural-gas bus then becomes virtually CO2-neutral. In addition, the noise level of the natural-gas engine is noticeably lower than that of a comparable diesel engine. Depending on the driving status, its noise emissions are up to 4 dB(A) lower, which corresponds to the subjectively perceived noise level almost being cut by half.
Both factors – low CO2 emissions and low noise level – make the new Citaro NGT especially suitable for service in busy inner cities as well as residential areas or old-town districts with high numbers of tourists. In Madrid, the new natural-gas buses from Mercedes-Benz will operate in the city, including on one of Madrid's main avenues, the Paseo de la Castellana, which is in the centre of the Spanish capital.
The centrepiece of the new Citaro NGT is the Mercedes-Benz M 936 G natural-gas engine. With a displacement of 7.7 litres, it is currently the most compact natural-gas engine in its class: weighing just 747 kg including the precatalyst, the engine is described as a textbook example of successful downsizing. …
At the same time, the natural-gas engine from Mercedes-Benz sets the bar for environmental acceptability particularly high, because the CO2 emissions of a natural-gas engine are up to ten percent below those of a diesel engine. Using renewable natural gas to power the bus makes the carbon footprint even better, because a natural-gas bus then becomes virtually CO2 neutral. …
via 82 M-B Citaro NGT for Madrid in May
Santa Monica Bus Fleet Goes Clean with RNG and ISL G Near-Zero Engines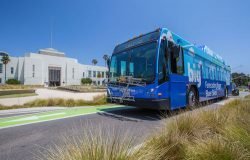 Clean Energy Fuels Corp., a major provider of natural gas and renewable gas for transportation fuel in North America, has been awarded a multi-year contract by the City of Santa Monica to supply liquefied natural gas (LNG) for the city's Big Blue Bus (BBB) fleet of vehicles. The 5-year deal, worth an estimated $3 million per year, will enable BBB to continue using Clean Energy's Redeem™ brand of renewable natural gas (RNG), rated up to 90 percent cleaner than diesel and considered the cleanest transportation fuel available.
BBB, which began using Redeem™ by Clean Energy in January 2015, was one of the first transit agencies in the nation to contract for RNG and will also become one of the first agencies to incorporate the new Cummins-Westport 8.9L ISL G Near-Zero 0.02 NOx engine, the first mid-range engine in North America to receive emission certifications from both U.S. Environmental Protection Agency (EPA) and Air Resources Board (ARB) in California that meet the 0.02 g/bhp-hr optional Near Zero NOx Emissions standards.
Big Blue Bus, which includes 200 natural gas buses, plans to replace over 100 of their existing bus engines with the new Near-Zero natural gas engine over a three-year period, making BBB one of cleanest transit agencies in the nation. When the transition is complete, BBB is expected to have reduced their NOx emissions by over 90 percent and their GHG emissions by 8,000 metric tons annually.
Watch our video below which invites viewers to this blog post:
[canvakala-video src="https://www.youtube.com/watch?v=kQbWc5YIw8g" width="640″ height="360″]
Introduced by CWI earlier this year, the new Cummins ISL G 8.9L Near Zero 0.02 NOx engine is designed for medium-duty truck, urban bus, school bus and refuse applications and is available on the market today. Cummins-Westport plans to begin delivering an 11.9L version that is also EPA and ARB certified for the heavy-duty trucking industry in 2018. [biogas buses and biogas trucks]
"The City of Santa Monica has a deep commitment to the people and environment in our community. By combining the environmental benefits of RNG with the technological advances of this engine, we are proud to say that we are in fact, one of the cleanest transit agencies in the nation," said Ed King, BBB's Director of Transit.
The City of Santa Monica is a nationally recognized leader for its sustainability policies and actions. BBB has progressively contributed to the City's sustainability narrative through its use of alternative fuel and ultimate phasing out of diesel-fueled motor coaches. Through this commitment, clean burning RNG and the new 0.02 NOx engine will power BBB's entire fleet.
"Big Blue Bus has always been a leader in sustainability and with our Redeem™ RNG and the implementation of the new Near-Zero engine, we are about to witness the future of the transportation industry and the incredible advances we've made in reducing the impact on the environment," said Peter Grace, Clean Energy's senior vice president for sales and finance.
Clean Energy believes that Redeem™ is the cleanest transportation fuel commercially available in the U.S. according to EPA data regarding carbon emissions for transportation fuel. Redeem™ is a renewable natural gas vehicle fuel, often referred to as biomethane. It is derived from biogenic methane or biogas, which is methane that is naturally generated by the decomposition of organic waste. The methane gas is processed, purified and sent into the interstate natural gas pipeline and made available exclusively to Clean Energy customers. Redeem™ biomethane vehicle fuel is procured from biomethane production facilities, including two owned and operated by Clean Energy. (Source: Clean Energy Fuels Corp)
via Santa Monica Bus Fleet Goes Clean with RNG and ISL G Near-Zero Engines