The anaerobic digestion UK scene has shown plenty of activity over the last 3 months (to November 2016), so we thought that we would round-up some of the articles we have been reading, and summarise them on this web page for the convenience of our readers.
The biggest news item has been the news that the UK now has over 600 anaerobic digestion plants in operation. This is still only a fraction of the number of active AD Plants in countries like Germany, however, the number has been growing quite rapidly in the United Kingdom in recent years. It is certainly worth publicising.
Anaerobic Digestion UK – ADBA's AD MAP CELEBRATES OVER 600 UK PLANTS (October 2018)
The UK anaerobic digestion industry now has over 600 operational plants, and following the launch of ADBA's interactive map in 2017, they're easier to see and find than ever.
The industry association's database features 640 sites which are producing biogas from food waste, agricultural materials, industrial effluents and sewage.
ADBA's map enables suppliers, developers and waste producers to find plants near them or to view a particular type of plant across the UK. ADBA member companies are able to access enhanced features including sites in planning and construction.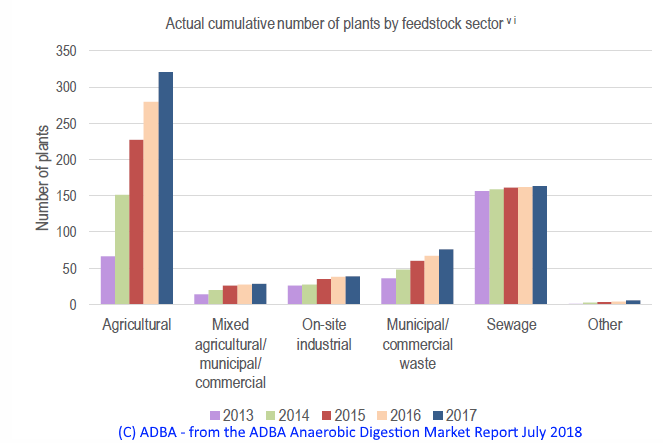 Responding to the launch, Charlotte Morton, Chief Executive of the Anaerobic Digestion and Bioresources Association (ADBA), said back in September 2017:
"ADBA's market reports and data already provide the most comprehensive information about AD in the UK, and our interactive map makes it even easier to find and use than ever before.
"The growth of the AD industry to 540 operational sites is hugely welcome, providing the equivalent of over 700MW capacity for green electricity generation and offering a sustainable option for food waste, farming and water treatment.
"The benefits that AD is already delivering show why the industry should be supported to continue to grow: we desperately need the government to set out its plans for the RHI, expand support for renewable electricity and take action to ensure that food waste is collected and recycled."
The map is available via the ADBA website, http://adbioresources.org/about-ad/ad-map. via PRESS RELEASE: NEW AD MAP CELEBRATES OVER 500 UK PLANTS
While ADBA celebrates their 500th, the UK water industry has also been continuing their move into the Anaerobic Digestion UK process, for sewage works sludge treatment. in this case the news is for a new biogas plant in Yorkshire, as described below:
Yorkshire Water approves development of £72m anaerobic digestion plant in UK
Published 02 November 2016 – Water and sewerage service provider, Yorkshire Water, has been given approval to build a new £72m anaerobic digestion (AD) plant at its Knostrop waste water treatment works in the center of Leeds, West Yorkshire.
via Yorkshire Water approves development of £72m anaerobic digestion plant in UK
Anaerobic digestion UK investment is an obvious candidate for green investment funding from the UK's Green Bank, so the following news was particularly welcome. It also contains some rare information on anaerobic digestion costs:
UK Green Investment Bank backs 2.2-MW anaerobic digestion plant (UK)
August 19 – A 2.2-MW anaerobic digestion (AD) plant in Nottinghamshire, England has secured a GBP-13.2-million (USD 17.3m/EUR 15.8m) investment, half of which from a fund backed by the UK Green Investment Bank plc (GIB).
The Recycling and Waste LP (RAW) Fund, which is managed by Foresight Group and in which GIB is a cornerstone investor, has committed GBP 6.6 million to the project, Foresight said on Thursday. SQN Asset Finance Income Fund is providing a matching co-investment.
The combined heat and power (CHP) plant, located at Stud Farm in Rufford, is currently under construction, with completion expected in the fourth quarter of 2016. Developer and operator of the project is Future Biogas Ltd.
The facility will use poultry litter, straw and other agricultural feedstock from nearby farms and will supply electricity and heat to local businesses. Any surplus power will be fed into the UK grid.
"Anaerobic digestion is widely recognised as one of the most effective ways of processing organic waste. AD facilities have an important role to play in the development of a circular economy in the UK," said Edward Northam, GIB head of investment banking. (GBP 1.0 = USD 1.313/EUR 1.194) via UK GIB backs 2.2-MW anaerobic digestion plant – SeeNews Renewables
The preceding news omits any reference to anything other than renewable electricity generation being the ultimate output from these plants. However, future biogas plant developments are unlikely to receive anything like the high levels of subsidy provided by the UK government seen in the past. In particular the enhanced payments under the UK FiT Scheme are being phased out.
So, in our final Anaerobic Digestion UK item, we highlight an interesting article which suggests that the production of biomethane should be considered as a potentially higher value market for the sale of the energy, not as electricity, but in the form of high quality Compressed Natural Gas (CNG).
In this case the buyers would be European Corporations seeking to decarbonize their businesses in accordance with shareholder aspirations.
Farmers with anaerobic digestion urged to tap into growing demand for green energy in Europe
Farmers and rural businesses with an anaerobic digestion plant could secure a 10-20% premium on the gas they produce by tapping into growing demand for green energy across Europe. Currently, most AD plants burn the gas they produce to generate electricity and heat.
But there is an emerging market for bio-methane, which can be injected directly into the gas main, says Richard Palmer, Energy Consultant at Butler Sherborn Energy.
"Although consumers in the UK are reluctant to pay a premium for this green energy, corporate energy customers across Europe are increasingly keen to demonstrate their energy credentials," he says.
"We have secured an agreement with a major energy company, which can pipe green gas through the interconnected gas mains to European customers, so can now offer British producers a share of this premium market."
The development comes at a critical time for the British renewable energy industry, which is looking increasingly unstable as a result of Government spending reviews and Brexit. via Farming UK News
We suggest that you visit the original article for a fuller explanation of the excerpt from the biomethane report, and how it might be developed for Anaerobic Digestion UK requirements, above. In addition, we welcome your comments on this article, below.
See our updated page on Anaerobic Digestion Plants UK here.